Digital Circuit Trainer (16 Bit)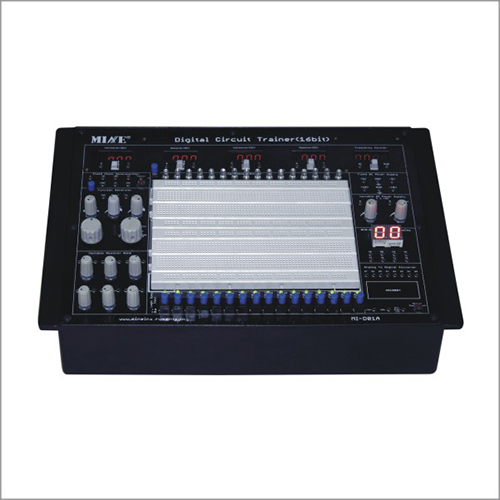 Digital Circuit Trainer (16 Bit)
Product Description
Digital Circuit Trainer 16 Bit (MI-D01A) is an advanced learning platform which comes with extremely useful components & resources to understand and grab the knowledge about basic, linear & digital electronics. This is a multi-purpose mini lab which is featured by built-in Fixed DC Power Supplies, Variable DC Power Supplies, Clock Generator, Logic Level Generator, Logic Level Indicator & etc.
Features
Easy to Operate.
On-board Function Generator & Clock Generator.
On-board dual range Digital Panel Meter.
Built-in Fixed & Variable DC Power Supply Source.
Built-in Analog Digital Circuit (ADC).
On-board Module Mounting Place/ Workspace.
All the component and circuits are fitted inside the trainer board.
Built-in Logic Level Input Switches & Logic Level Output Indicators.
On Board Study
Study of BCD to 7 Segment Converter
Study of Analog to Digital Conversion 8 Bit for DC Signal
Study of ADC 8 Bit for AC Signal
Addon (optional study board)
Study of Logic gates
Study of Universal Gates
Study of Flip Flop
Technical specification
Inbuilt Fixed DC Power Supply Source : + 5V/500mA.||- 5V/500mA.||+ 15V/200mA.||-15V/200mA.
Inbuilt Variable DC Power Supply Source : 0 to + 30V/200mA. -2Nos
Short Circuit Protection :On-board short-circuit protection for all fixed and variable DC power supplies.
Built-in ADC : 8 Bit
Function Generator
Operating Modes : Sine, Square and Triangular.
Frequency Range : 1Hz-200KHz in six steps, variable in each step.
Accuracy : up to 200KHz
Sine Wave Distortion : max 5%
Triangular Wave Non Linearity : max 5%
Square Wave overshoot : < 5%.
Amplitude : Upto 20Vpp, (Accuracy 5%).
DC Offset : 5V.
TTL Output : Synchronous TTL output.
TTL Clock : 1Hz, 10Hz, 100Hz, 1KHz, 10KHz, 100KHz, 1MHz with 0.5%accuracy and Manual Mode Debounce Switch.
Frequency Counter : upto 999KHz TTL input.(Accuracy 1%).
BCD Display : Seven Segment BCD Display (2Nos).
Logic Data Input : 16Nos.Push Switches provide for Logic Level Input with dual color indication LED.
Logic Probe : 16Nos.
Logic Level Output Indicator with High, Low and Hi-Z indication using LED.
Dual Range Digital Panel Meter : 4Nos.
Meter1 : 20V/200V
Meter2 : 20mA/200mA
Meter3 : 2V/20V
Meter4 : 200mA/2A.
On-board Variable Resistor Bank : 6Nos. (Potentiometers)
Breadboard : 172.5mmX128.5mm.
Electrical/Mechanical Specifications
Power ON switch with indicator and fuse for protection.
Input Line Voltage : 230V AC 10%, 50Hz,
Dimensions (in mm) : 340 (L) x 250 (W) x 62 (H)
Weight : < 3.5Kg. (Approx.).
Technical Details

Contact Us
67-B, 1st Floor, Electronic Complex, Pardesipura, Indore, Madhya Pradesh, 452010, India
Phone :06262609000